Arcade
No matter your age or skill level, our Visalia family fun park has an arcade game for you, your kids, and friends. Our arcade floor is packed with the industry's newest high-tech games. Plus you'll win points to redeem for prizes. The kids love that! After an afternoon or evening of playing arcade games with your family, your kiddos will go home with a prize they selected from our well-stocked redemption center. Don't be surprised if you see your little ones snuggled with their new "treasure" as you tuck them into bed that night.
Plus with our BONUS BUCKS rewards, you get even more time to play!
Load $20 onto an Adventure Card — Get $2 in Bonus Bucks.
Load $25 onto an Adventure Card — Get $5 in Bonus Bucks.
Load $50 onto an Adventure Card — Get $12 in Bonus Bucks.
Load $100 onto an Adventure Card — Get $30 in Bonus Bucks.
Bonus Buck Specials are available on any day of the week.
Bonus Bucks may only be redeemed in the Arcade on non-merchandiser games.
Sequoia Springs
Open DAILY 11am-6pm
Sequoia Springs is equipped with TWO enclosed Water Slides, ONE open air Water Slide, and a dual racer slide for little ones! It includes 8 Private Cabanas available to rent, a large seating area, two large sections in our VIP Lounge, and with 80 water-play features on the structure itself as well as another 45 water features on the ground you are sure to have a splash! No matter where you are you're bound to get wet! If that doesn't get you, the 90o-Gallon and the 350-Gallon buckets of water will!  Are you ready to enter the SPLASH ZONE?
PRICES
General Admission – $22 per person  | Guests wanting to get wet
Young Admission – $15 per person (Children Under 42″ tall)
Dry spectator-  $11 per person | Guests wanting to enter Sequoia Springs but not get wet
Children under 32″ – FREE (per paying adult)
Cabana Rentals  $60 (Monday-Thursday)/ $90 (Friday-Sunday & Holidays)
Deluxe Cabana Rentals $85 (Monday-Thursday)/ $140 (Fri-Sun & Holidays)
Children must be 42″ tall to ride the Water Slides, there are no height restrictions in the play area or splash pad.
The entire Sequoia Springs structure is designed for maximum fun and maximum splash! Those under 42″ will still have a multitude of features and attractions within Sequoia Springs to create the best Summer ever!
Laser Maze
Ninjas Wanted! Can you escape the vault? Challenge yourself and your friends in the Great Vault Escape. Maneuver through laser beams at a variety of different levels to reach the Key and Money Bags. Then escape the maze without being detected by the high-tech lasers. The Laser Maze also includes Beam Buster, great for all ages, where players bust as many beams as they can before the clock runs out. The Great Vault Escape and Beam Buster can both be played, single player or two players. Don't forget to save your scores and challenge your friends.
PRICES
One Session $ 3.00
Two Sessions $ 5.00
Batting Cages
Our batting cages are a favorite with kids and grown-ups alike. Who doesn't like feeling like a "Big Leaguer" swinging for the fences? With a swipe of an Adventure Card and a touch of a button, batters can choose baseballs or softballs pitched at varying rates of speed.
PRICES
15 pitches: $2 | 1/2 hr non-team rental: $18 | 1 hr non-team rental: $30 | 1 hr team rental $20

RESTRICTIONS: Time rentals are NOT available during peak times, such as weekends; or, after 4 p.m. on Fridays. This attraction is NOT included with the purchase of an all-day wristband. 
ALL BATTERS UNDER THE AGE OF 18 ARE REQUIRED TO WEAR A HELMET WITHIN THE CAGE WHILE BATTING.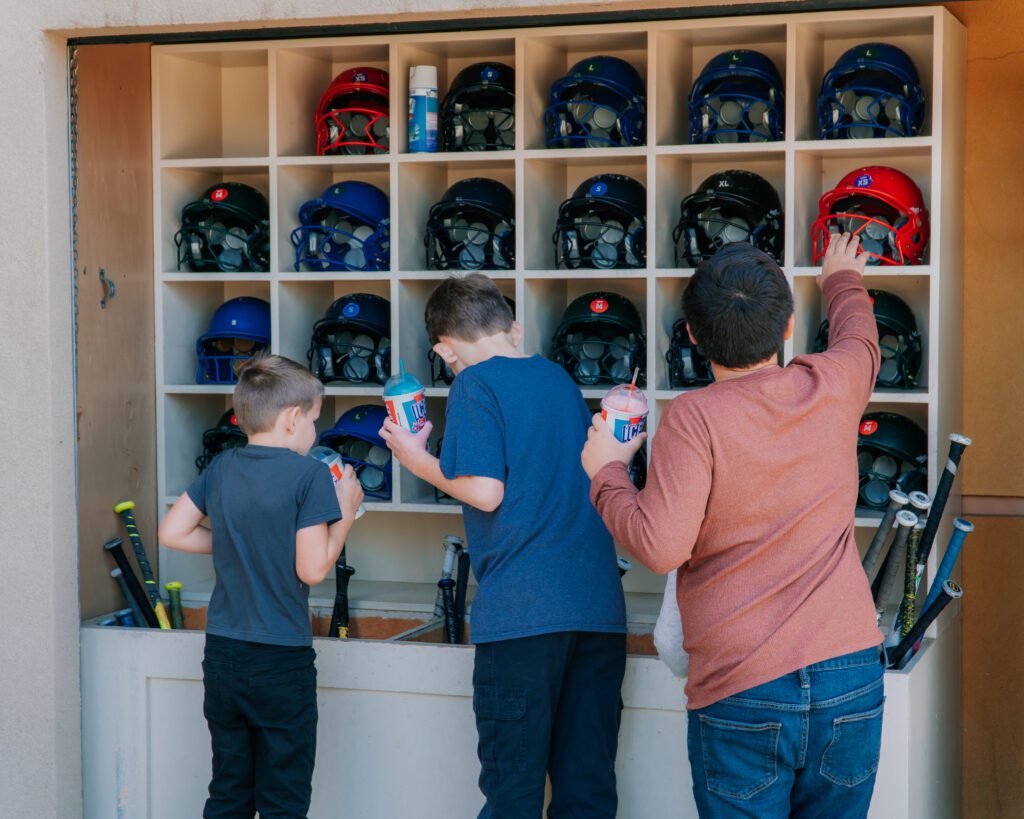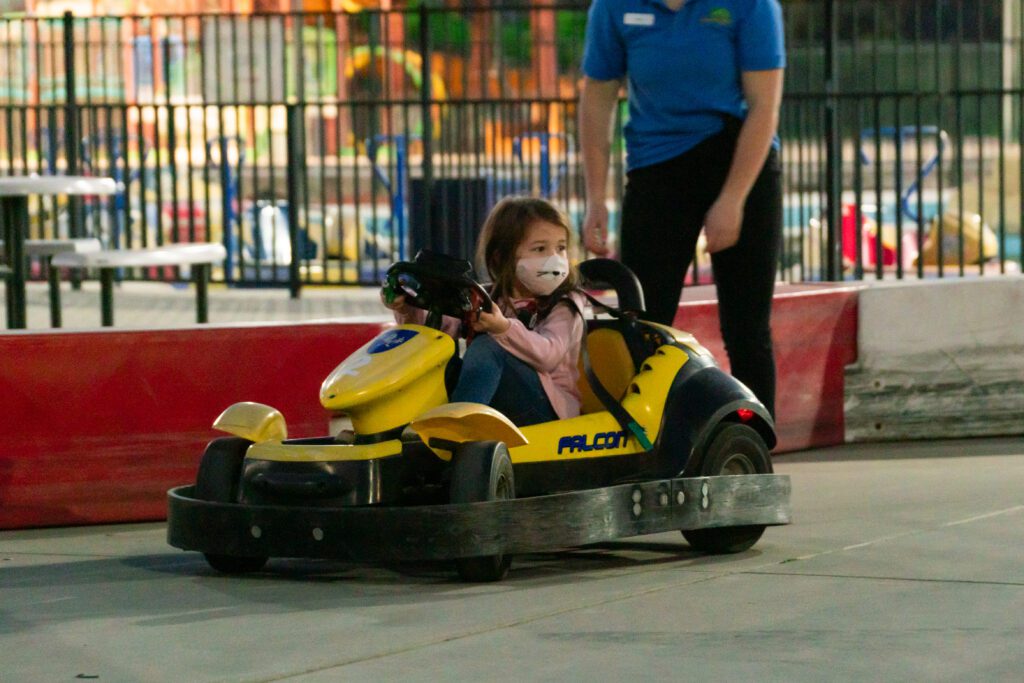 Kritter Karts
Are your kids not quite tall enough for our Family Go Karts? With our Kritter Karts, your kids can still experience the thrill of driving on a racetrack! Our mini go carts travel at a very safe, slow speed for children. If necessary, the attendant can stop all carts remotely with the press of a button, like when a driver goes the wrong way! Kritter Karts are suitable for drivers as young as 5 years old and weighing less than 90 lbs.
PRICES
One 5-Minute Driving Session $ 5.00
RESTRICTIONS: All drivers must be over 36 inches and under 54 inches tall, while weighing less than 90 lbs to drive a Kritter Kart. This attraction is not included with the purchase of a wristband.
Miniature Golf
Work on your putting skills by challenging friends to a game of Miniature Golf on the best 18-hole miniature golf course in the Central Valley. With the trees and beautiful landscaping, you'll almost feel like you're on a real golf course. The theme is our very own Sequoia National Park, one of many California treasures.
PRICES
$10 | 7 and under: Free with paying Golfer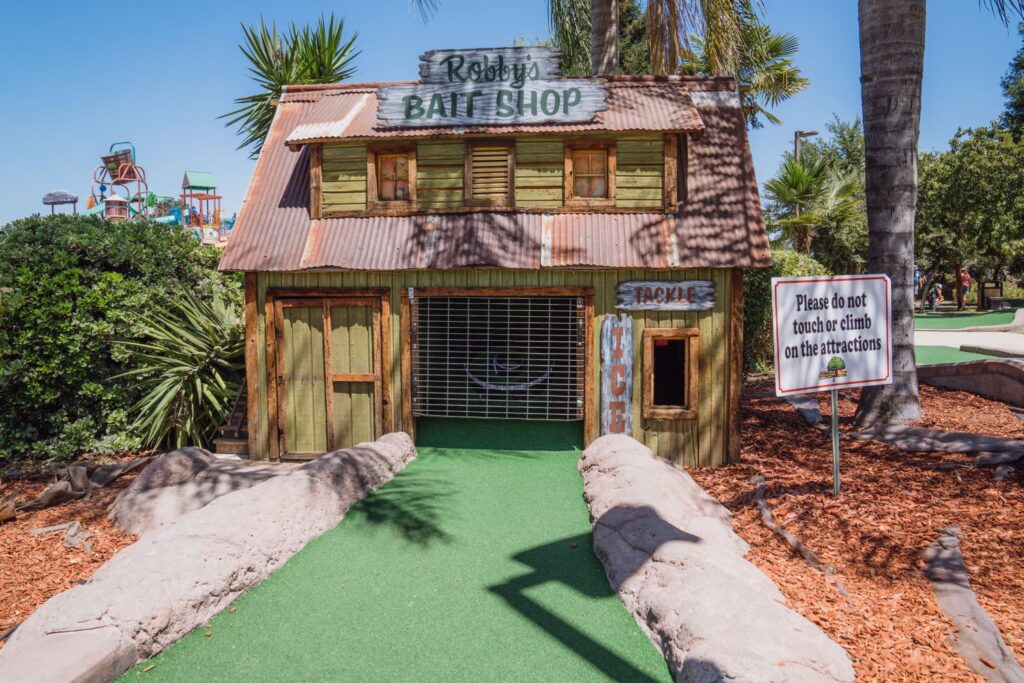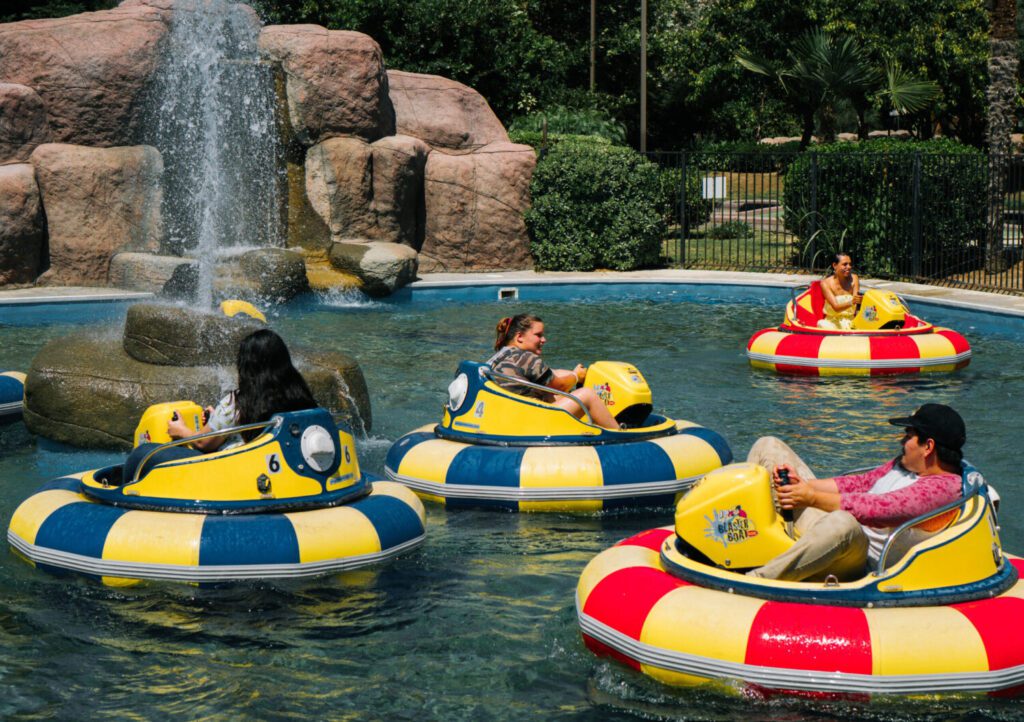 Bumper Boats
Once a driver climbs aboard one of our electric boats, it doesn't take long for the splashing, bumping, and squirting of other boaters. Fun in a blue lagoon! Approach the waterfall and geyser at your own risk; they can give you a good soaking. Don't say you haven't been warned!
PRICES
One 5-minute session: Driver: $10 | Passenger: $3  
RESTRICTIONS: All drivers must be a minimum of 44 inches tall; passengers must be a minimum of 40 inches tall. All passengers must be driven by an individual over 18 years old.
Laser Tag
Challenge yourself, your friends, or your family with our newly upgraded Laser Tag. It's an exciting, competitive game. Find out who dominates in the world of Laser Tag! Great for birthday parties, company gatherings, or even corporate team building exercises!
PRICES
$10 per person for one 7-minute round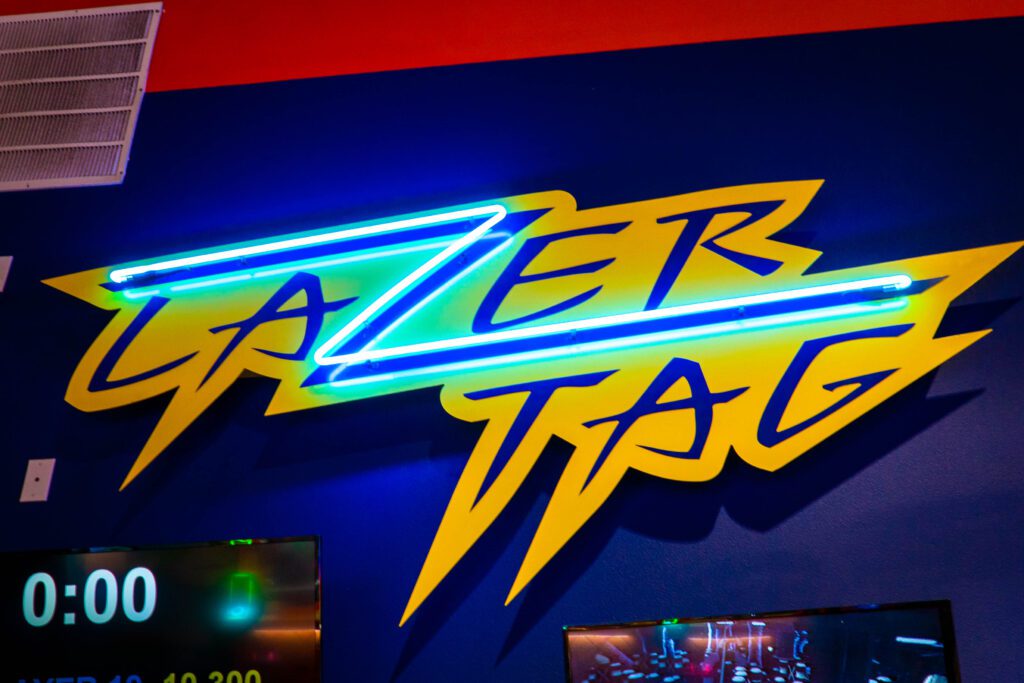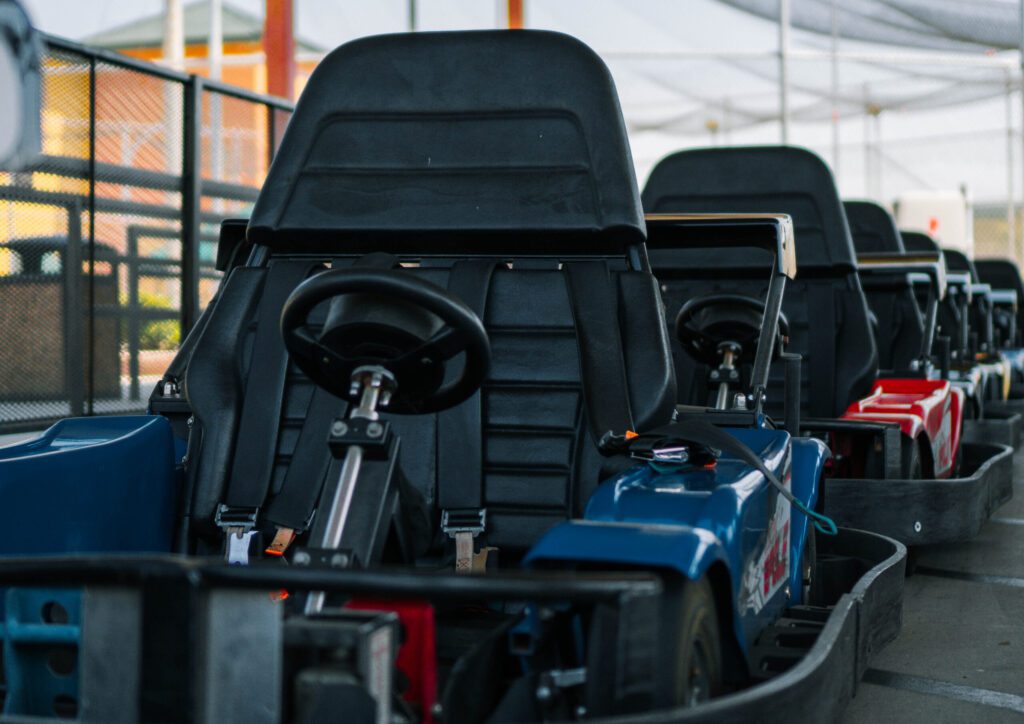 Family Go Karts
When you hop on one of our Go Karts, get ready to experience the thrill of open-air driving, with the wind blowing across your body. With our simple loading and unloading procedures, drivers and passengers are able to get-in-and-drive quickly! The best part is that kids 54 inches and taller can drive!
PRICES
One 5-minute session: Driver: $10 | Passenger: $3  
RESTRICTIONS: All drivers must be a minimum 54 inches tall. Passenger must be a minimum of 40 inches tall. All Passengers not eligible to drive themselves must be driven by an individual over 16 years old.